Sanctuary Australia Foundation was contacted by Rev. Paul Sanders whose offered to fundraise to provide direct support to needy refugees through his Pilgrimage walks in the Grampians, Victoria.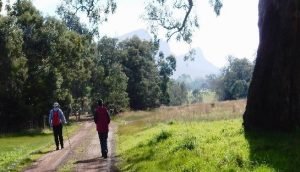 The 'Inaugural Pilgrim Walk'  includes the Wannon circle walk (easy-moderate 3days 45K walk). The walk will be held between Friday September 1- Monday 4 – 2017.
Our life as a pilgrim Journey:  Touching the earth, connecting with other stories of pilgrimage, being open to 'not fully knowing', experiencing simplicity,
meeting other sojourners and feeling enlivened in natural beauty opens us to see new possibilities. Just the experience of walking is rejuvenating and connecting. Our walking is in the footsteps of other sojourners, past, and present.
–Indigenous people who hold this place as sacred and alive.
–The Chinese who walked across the southern Grampians to the goldfields, many dying on the walk and others held for forced labour.
–The early settlers who valued and created the park we know today.
–Refugees and immigrants who risk their life every day walking for a new land and future.
Funds generated after cost to:  Sanctuary Australia Foundation & Dunkeld Refugee and Asylum Seekers Support Group. 
Inaugural Cost offer: Residential: Single, full $450, con. $350. Couple, full $800 $Con. $700 Early booking advised.  Non-residential: Single $250, Con $200. Day only: $100, $75 Con.  The costs include accommodation, transport to and from the site (when required), meals, processes and information booklet.
Register Interest and Booking:cloudmountain97@bigpond.com.
While one does not have to be an experienced walker-please recognise a reasonable fitness is required or a capacity to walk around 15-20 Ks per day.
Other elements within the pilgrim walk experience:
Processes will enable participants to integrate the discoveries emerging from the walk through gentle reflective activities and supportive activities. These will include-conversation, art processes, hospitality, meditation or/and other reflective engagements.
Sponsors:  Dunkeld Old Bakery, Grampian Views B&B, Eleni Rivers Studio, Uniting Church, Dunkeld Delights, Cloud Mountain Retreat. Sanctuary Australia Foundation & Dunkeld Refugee and Asylum Seekers Support  Group.
For more information: http://www.cloudmountainretreat.com.au/